N95 Respirators / Mask / Coverall
An N95 respirator is a respiratory protective device designed to achieve a very close facial fit and very efficient filtration of airborne particles.
The 'N95' designation means that when subjected to careful testing, the respirator blocks at least 95 percent of very small (0.3 micron) test particles. If properly fitted, the filtration capabilities of N95 respirators exceed those of face masks.
N95 Respirators / Mask – Features
Soft and breathable
Washable and Reusable
Removable 4 layer respiratory filter media
95% Filtration efficiency @3 micron Airborne particle
Anti microbial multi-layer woven fabric
Exhalation value for seam less out flow of exhaled air
Eco & User friendly
General N95 Respirator Precautions
People with chronic respiratory, cardiac, or other medical conditions that make breathing difficult should check with their health care provider before using an N95 respirator because the N95 respirator can make it more difficult for the wearer to breathe. Some models have exhalation valves that can make breathing out easier and help reduce heat build-up. Note that N95 respirators with exhalation valves should not be used when sterile conditions are needed.
All FDA-cleared N95 respirators are labeled as "multiple -use," washable devices. If your respirator is damaged or soiled, or if breathing becomes difficult, you should remove the respirator, discard it properly, and replace it with a new one. To safely discard your N95 respirator, place it in a plastic bag and put it in the trash. Wash your hands after handling the used respirator.
N95 respirators are not designed for children or people with facial hair. Because a proper fit cannot be achieved on children and people with facial hair, the N95 respirator may not provide full protection.
N95 Respirators in Industrial and Health Care Settings
Most N95 respirators are manufactured for use in construction and other industrial type jobs that expose workers to dust and small particles.
However, some N95 respirators are intended for use in a health care setting. Specifically, single-use, disposable respiratory protective devices used and worn by health care personnel during procedures to protect both the patient and health care personnel from the transfer of microorganisms, body fluids, and particulate material.
The respirator is intended to prevent specific diseases or infections, or
The respirator is labelled or otherwise represented as filtering surgical smoke or plumes, filtering specific amounts of viruses or bacteria, reducing the amount of and/or killing viruses, bacteria, or fungi, or affecting allergenicity, or
The respirator contains coating technologies unrelated to filtration (e.g., to reduce and or kill microorganisms).
Coverall
FEATURES: BASE FABRIC :30 GSM PP SPUN BOND NON WOVEN WITH LAMINATION MATERIAL FOR LAMINATION: 25 MICRON PU FILM AREAL DENSITY OF LAMINATED FABRIC 65 GSM FUNTIONAL TEST: SYNTHETIC BLOOD PENETRATION TEST PASSED IN FABRIC & SEAM PORTION SITRA UCC NUMBER" S-NW-CA200416P0552-A4B1 Please contact: Mobile : 0091 7598436385 E.mail Id : karthik@organicfiberclothing.com www.organicfiberclothing.com www.maskn95india.com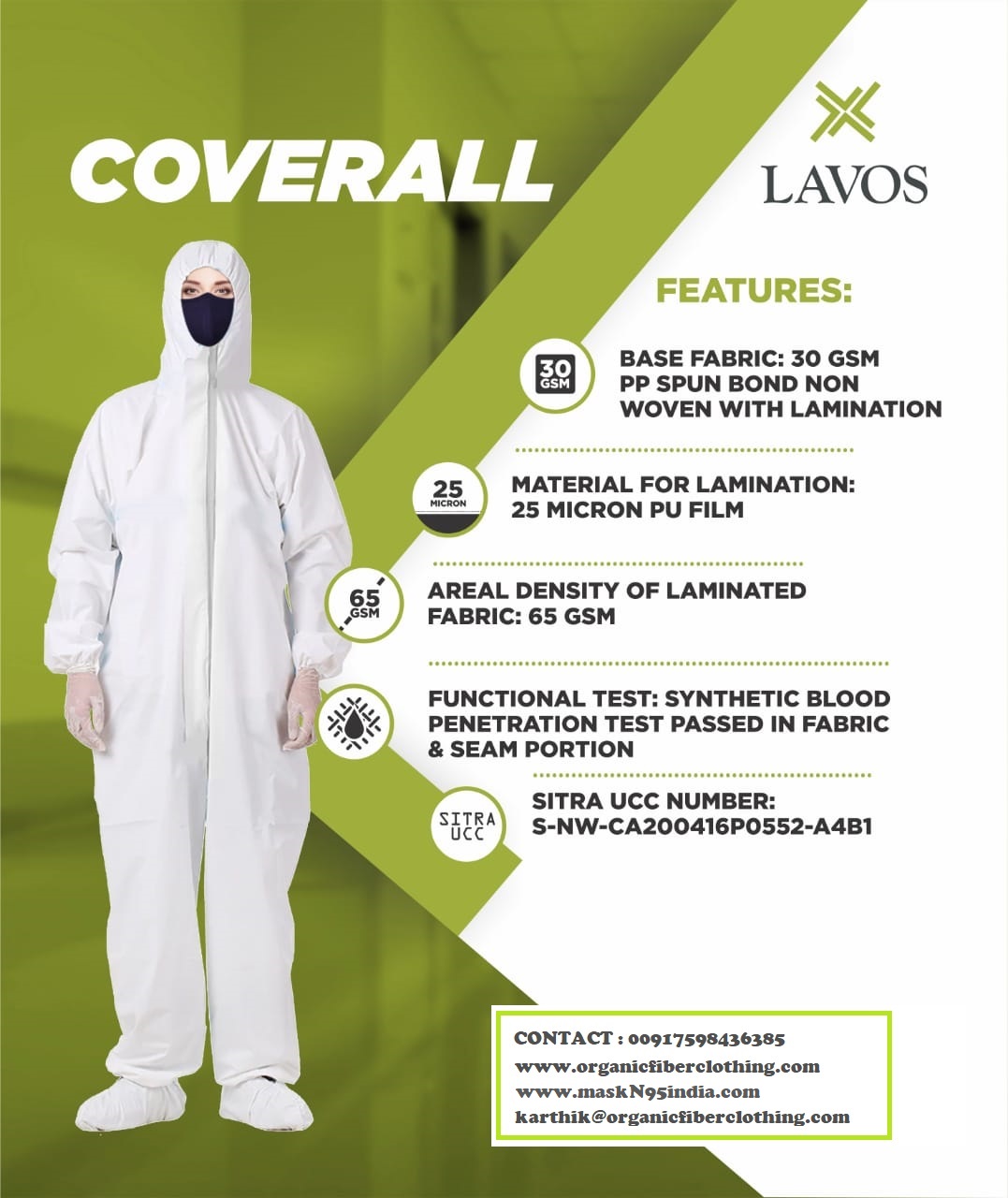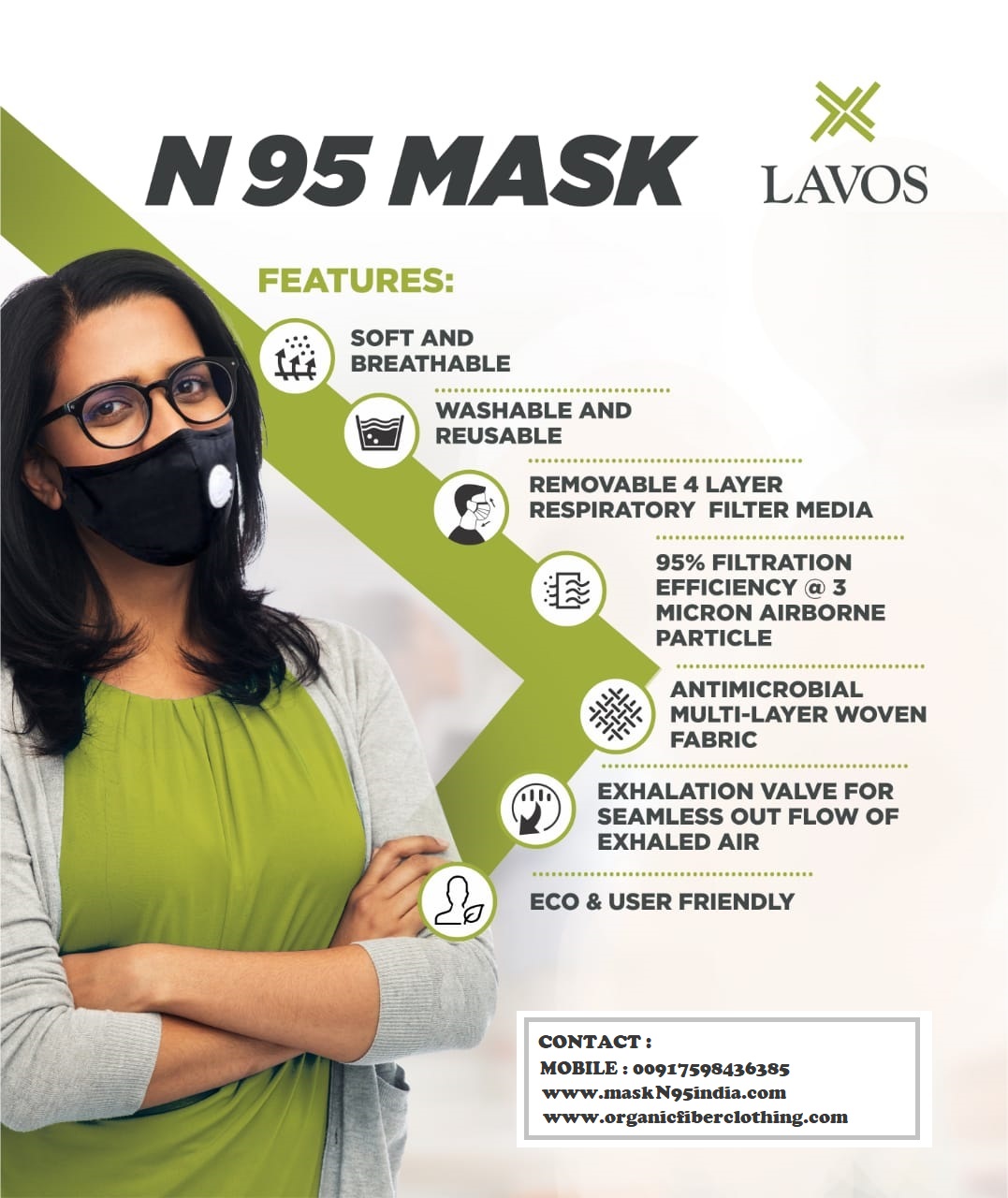 BAMBOO FACE MASK
We can supply Bamboo Face Mask.. In bamboo.. 52% cotton / 43% bamboo viscose / 5% lycra a unique blend of bamboo viscose and organic cotton making it silky-soft and fully loaded with natural performance benefits. Two layers of bamboo cotton with a melt blown filter in between..
Bamboo facts
Naturally soft
Thermal regulating
Wicks moisture away from the body
Breathable
Odour Controlling
Provides UV protection
Bamboo is sustainable and is 100% biodegradable
Antimicrobial lost up to 20 washes. Otherwise 30 washes can be used.Let me know your interest.